City Builders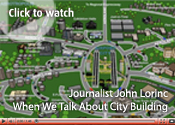 Journalist John Lorinc explores city builders and the evolution of urban environments given to alumni, staff and faculty of the Geography Department at York University. The Geography Department at York University is one of the largest and most diverse geography departments in Canada. There is a range of challenging learning opportunities in the subfields of human geography, physical geography and geographic methods.
Connecting the Docs
Documentary filmmaker Mark Terry discusses his polar expeditions in Antarctica and across the Arctic's Northwest Passage and the new climate research and discoveries made along the way. These findings were reported by Terry in two documentary films, The Antarctica Challenge and The Polar Explorer. As the guest speaker for the Geography Department's Alumni Speaker Series, Terry explains how effective the medium of film is in reaching international policy-makers by making the data more accessible. His two films were presented at United Nations climate summits and helped create a new resolution on the imminent threat of rising sea levels.
Modern Myths in Northern Science
Professor Woo's research has focused on understanding the principles of catchment, hillslope and wetland hydrology as well as assessing changes in hydrological systems by environmental stressors such as climate variability and human modification to the landscape. More recently, he was the program leader of the MAGS project that studied how climate change and variability affects ice and snow dynamics and water resources in the Mackenzie River Basin.