Talks
A variety of talks are held at York Geography and York University. A list of the most relevant upcoming and recent talks is provided below.
Travelogue Lecture Series
These popular lectures featuring speakers from York's Department of Geography are both fun and informative.
Professor Taly Drezner
Cruising to Greenland, October 31, 11:30AM - 12:30PM. Refreshments served.
Ross S403 (GRC)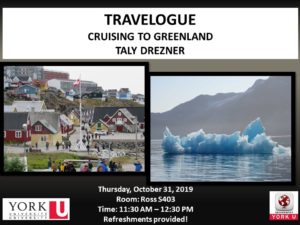 Colloquia
The Department of Geography Graduate Program hosts a weekly Colloquium Series (Fridays, 11:30 am - 12:30 pm most weeks) during the Fall and Winter Sessions. One hour presentations are offered from invited scholars, faculty members and graduate students.  For more information about the Colloquium Series, contact the Graduate Program Assistant.  A complete list of the colloquium series is available at the Graduate Program Colloquium/Seminars website.